DONATE
Cara
2022-09-15T22:48:51+00:00

Our mission is to help provide stability, emotional and financial support and unconditional love to those children who need it most.
The Lovey Project needs
your help to reach our goals!
From directly supplying Loveys to donating funds and partnering with various organizations that address these children's needs.
We are collecting your stories, your Loveys and your donations – we promise to take care of you, too! Thank you for joining us as we try to make this world a safer, softer, more loving place for as many children as possible – one Lovey at a time.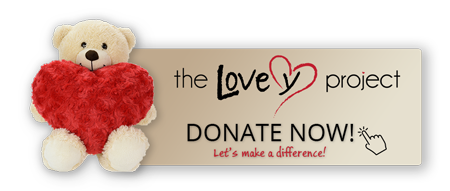 Thank you for supporting The Lovey Project!
The Lovey Project currently works with various Chicagoland charitable organizations aimed at helping children. The Lovey Project has been actively donating over 97% of our funds since being founded in late 2015. Our hope is to expand our support network to national programs by the end of 2022. In the past, we have raised funds at our annual Halloween "Haunted Manor" Open House in support of the following charities:
Lurie Children's Hospital:
In 2016 and 2017, The Lovey Project supported the Lurie Children's fundraising drives for their Cancer center and other programs for children with serious illnesses and extended stays at the Chicago hospital.
Mercy Home for Boys & Girls:
In 2018, The Lovey Project donated to downtown Chicago's "MERCY HOME" a Catholic organization ministering to children, teens and families in need.
Chicago Sun-Times "Letters to Santa" program:
The "Letters to Santa" program provides wish fulfillment during the holidays to almost 12,000 children in the Chicagoland area. The Lovey Project donation fulfilled over 250 individual wishes in 2019 and 2020.
Operation Paperback:
Operation Paperback's mission is to provide Military personnel, veterans and their families with books. In 2021, The Lovey Project donated Loveys and children's books (from picture books to YA) to Fort Campbell's family library in Clarksville, TN.
WE NEED YOU!
To Partner with The Lovey Project and help us reach our fundraising goals, please consider a donation today.
Thank you for your support!The Lovey Project is a 501(c) 3 charity (TAX ID: 47-4803025)